Frequently asked questions
Why does the UK take so many refugees? Don't we have our own problems?
---
Many people think that the majority of refugees, globally, are trying to claim asylum in the UK and that the UK Government is doing more than its fair share.
This is a myth propagated by the media. Just one example – since the the Syrian crisis began, the total population increase in the UK was 0.009% (or roughly 30,000 refugees). Compare this with Lebanon, whose population has increased by 25% (or roughly 1,067,000 refugees).
---
They're not refugees – they're economic migrants!
---
UNHCR's latest figures show that some 1,000,573 people had reached Europe across the Mediterranean, mainly to Greece and Italy, in 2015. Of these, 3,735 were missing, believed drowned.
The landmark figure, which was reached late on December 29, also indicated that 84% of those arriving in Europe came from the world's top 10 refugee producing countries, strengthening UNHCR's belief that most of the people arriving in Europe were fleeing war and persecution.
'Over one million people have landed on Europe's shores, fleeing war and persecution, seeking a better life for their families,' said Vincent Cochetel, UNHCR Director of the Bureau for Europe.
'Tragically, over 3,700 other children, women and men did not survive the perilous journey by sea and their hope for a fresh start died with them.'
Cochetel added: 'If there were more legal avenues for refugees to reach Europe, perhaps some of those who died at sea could have found peace and safety instead. For the refugees who risked everything and have now safely reached Europe, we hope they will be received in the context of the European values of dignity, solidarity, and human rights, so that they may find their new beginning.' [Extract from United Nations Refugee Agency]
---
Why don't they just stay where they land?
---
Like most people, refugees want to live where they think they are most likely to get support, accommodation and jobs. Many factors drive where they decide they want to live…
Countries where they have family or friends.
Language skills; for example they may speak English or French and so are more likely to get work in the UK or France.
Where they think they will be welcome and helped financially – because of the numbers of refugees, countries where they first land are often hostile and unable to keep them safe. They therefore move on hoping to escape destitution.
This video explains in more detail…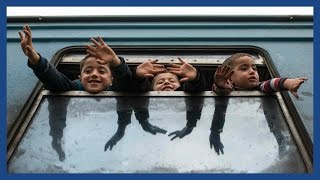 ---
All the refugees are single men; why do they leave their families?
---
Firstly, single young men are often targeted by groups like ISIS, the Taliban and others as potential recruits – and so these men have to flee in order to avoid being enlisted or killed.
Secondly, many of the young women who flee sadly get stuck in Libya, or are more likely to be taken into the slave trade. More of the women are killed on the way, which is why greater numbers of men eventually get through to Europe.
Thirdly, families may often only be able to send one family member to try and secure safety so they, of course, will send their fittest/most able family member to seek asylum.
---
If these men are genuine refugees, why are they not in official camps?
---
These young men understand that, in the official camps, countries are selecting women, children and families for their humanitarian quota intakes.
Knowing they have little chance of success, they will, therefore, resort to their next best option. If they speak English already or have family in the UK, it is logical that they would try to make it here. [This extract and more information from Care4Calais – Refugee Crisis]
---
---